About Us
The Balti Express is a Indian takeaway in Dorset. Why don't you try our Small Dansak or Small Saag?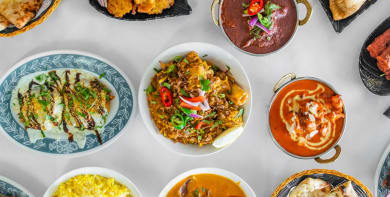 Reviews
256 reviews
Charlotte
"Very tasty as always and still hot when delivered always a good thing! Was a bit late but I think that partly due to our rural location."
18/07/2021
Sarah
"The delivery guy was brilliant!"
13/07/2021
Mr
"Excellent. Very nice and on time"
10/07/2021
Helen
"The portions were really good, the food was really tasty, food delivered on time"
09/07/2021
Menu
Prawn on Puri
Bhuna prawns on light fluffy bread
£5.50
Chana Chaat
Chickpeas with chaat spices
£3.50
Special Mixed Chaat
Chicken tikka, tomato, green peppers, onions, spinach, lightly spiced charred masala
£4.90
Samosa Chicken
Vegetarian
£3.90
Samosa Vegetable
Vegetarian
£3.90
Mixed Kebab Starter
With onion bhaji, chicken tikka & seekh kebab
£4.80
Seekh Kebab
Minced lamb mixed with herbs & spices, skewered & grilled in the tandoor
£3.80
Nargis Kebab Starter
Egg wrapped with mince lamb in masala
£3.90
Chicken Tikka Starter
Marinated chicken cooked in clay oven
£4.20
Onion Bhaji
Sliced onion blended with gram flour & deep fried
Vegetarian
£3.50
Chicken Chaat on Puri
Shredded chicken cooked in chaat spices served on puri bread
£4.90
Garlic Fried Mushroom Paneer
Buttered mushrooms with garlic & Indian cheese
£4.50
Chicken Pakora
Diced chicken with fresh herbs & spices, fried with breadcumbs
£4.80
Vegetables Pakora
Potatoes, aubergines & chillies, fried with spices & chickpea flour
Vegetarian
£3.50
Garlic Chilli Chingri
Succulent tiger prawns cooked with garlic, chilli & coriander
Fairly hot
£5.90
Chingri Pathia Puri
Sweet sour tiger prawns cooked with coconut & served on puri bread
£5.90
Mixed Platter
Chicken tikka, onion bhaji, lamb tikka & samosa
£5.90
Chicken Tikka Wrap
Tikka rolled in a naan bread, served with salad & garlic mayo or mint sauce
£5.90
Shami Kebab Starter
Spiced mince shaped & fried, topped with an omelette
£4.50
Tiger Prawn Special
Chef's special spice, mild & creamy
£5.90
Tandoori Chicken Main
Half, on the bone
£7.50
Tandoori Mixed Grill
Tandoori chicken, chicken tikka, lamb tikka & seekh kebab
£10.90
Chicken Tikka Main
Boneless marinated chicken
£7.90
Chicken Shashlik
Green pepper, onion, tomato & cucumber, grilled & spice
£8.90
King Prawn Tikka
King prawns marinated with spices & grilled in tandoori oven
£12.90
Special Chana Chicken
Medium hot, spiced dish with chickpeas & onion
£8.50
Garlic Butter Chicken
Succulent pieces of grilled chicken breast cooked with butter & fresh cream, mild
£8.50
Green Chicken Curry
From Goa, boneless pieces of chicken breast cooked with green chillies, tamarind & mint
£8.50
Tangy Tamarind Chicken
Hyderabadi lamb or chicken cooked with toasted spices & tamarind
£8.50
Tangy Tamarind Lamb
Hyderabadi lamb or chicken cooked with toasted spices & tamarind
£8.50
Garlic Honey Chicken
Medium, cooked with garlic, honey & a few herbs & special spices
£8.50
Garlic Honey Lamb
Medium, cooked with garlic, honey & a few herbs & special spices
£8.50
Naga Chilli Special Chicken
Chef's special spicy sauce with chopped garlic, tomato, onion & hot naga chilli
Fairly hot
£8.50
Naga Chilli Special Lamb
Chef's special spicy sauce with chopped garlic, tomato, onion & hot naga chilli
Fairly hot
£8.50
Peri Gosth Chicken
Succulent grilled chicken or lamb stir-fried with mixed peppers & fried onion simmered with chef's special sauce
£8.50
Peri Gosth Lamb
Succulent grilled chicken or lamb stir-fried with mixed peppers & fried onion simmered with chef's special sauce
£8.50
Tawa Paneer Chicken
Strips of grilled chicken or lamb stir-fried with a combination of fresh peppers & spices, finished with mild cheddar cheese
£8.90
Tawa Paneer Lamb
Strips of grilled chicken or lamb stir-fried with a combination of fresh peppers & spices, finished with mild cheddar cheese
£8.90
Tapeli Chicken
Cooked with fresh garlic, ginger, capsicum, tomatoes & decorated with fresh cream, onions & coriander
£8.50
Tapeli Lamb
Cooked with fresh garlic, ginger, capsicum, tomatoes & decorated with fresh cream, onions & coriander
£8.50
Achari Chicken
Chicken or lamb cooked with sweet, sour & hot tantalising pickle, thick sauce
Fairly hot
£8.50
Achari Lamb
Chicken or lamb cooked with sweet, sour & hot tantalising pickle, thick sauce
Fairly hot
£8.50
Special Brinjal Curry
Aubergine & green chillies cooked in a velvet smooth tamarind sauce with yoghurt
Vegetarian
£7.90
House Special Mixed Curry
Medium with chicken, lamb, prawn & king prawn
£10.90
Jaipuri Chicken
Marinated chicken or lamb simmered with fried mushrooms, onion, capsicum & punjabi masala
Hot
£8.90
Jaipuri Lamb
Marinated chicken or lamb simmered with fried mushrooms, onion, capsicum & punjabi masala
Hot
£8.90
Goan Fish Curry
Fillets of tilapia fish, cooked in a rich spicy sauce with coconut & a hint of tamarind
£8.50
Methi Kalia Chicken
Slices of marinated chicken or lamb simmered in a lentil sauce with garlic & spinach for a wonderful aromatic experience
£8.50
Methi Kalia Lamb
Slices of marinated chicken or lamb simmered in a lentil sauce with garlic & spinach for a wonderful aromatic experience
£8.50
Chicken Bahari
Sweet & sour flavour with ginger, yoghurt & chilli
£8.50
Hyderabadi Chicken
Mango chaat, onion & a little bit of ginger, tantalising flavour
£8.50
Chicken Aloo Paneer
Chicken cooked with cheese, potato & cream sauce
£8.90
Chicken Saag Paneer
Chicken cooked with cheese, spinach in cream sauce
£8.90
Garlic Chilli Masala Chicken
Chicken or lamb cooked in a fresh garlic, green chilli, coriander & special sauce
Fairly hot
£8.50
Garlic Chilli Masala Lamb
Chicken or lamb cooked in a fresh garlic, green chilli, coriander & special sauce
Fairly hot
£8.50
Tandoori Shashlik
Marinated chicken, lamb, tandoori chicken & seekh kebab mixed together, cooked with ghee in a special sauce & garnished with cream
Hot
£9.90
Small Locknow Vegetable
A mild dish with mushroom
£4.50
Small Locknow Chicken
A mild dish with mushroom
£4.90
Small Locknow Chicken Tikka
A mild dish with mushroom
£5.50
Small Locknow Lamb
A mild dish with mushroom
£5.90
Small Locknow Prawn
A mild dish with mushroom
£5.90
Small Locknow King Prawn
A mild dish with mushroom
£7.50
Regular Locknow Vegetable (V)
A mild dish with mushroom
£6.00
Regular Locknow Chicken
A mild dish with mushroom
£6.60
Regular Locknow Chicken Tikka
A mild dish with mushroom
£7.50
Regular Locknow Lamb Tikka
A mild dish with mushroom
£7.50
Regular Locknow Lamb
A mild dish with mushroom
£7.90
Regular Locknow Prawn
A mild dish with mushroom
£7.90
Regular Locknow King Prawn
A mild dish with mushroom
£10.90
Small Korma Vegetable
A mild creamy sauce suitable for beginners
£4.50
Small Korma Chicken
A mild creamy sauce suitable for beginners
£4.90
Small Korma Chicken Tikka
A mild creamy sauce suitable for beginners
£5.50
Small Korma Lamb
A mild creamy sauce suitable for beginners
£5.90
Small Korma Prawn
A mild creamy sauce suitable for beginners
£5.90
Small Korma King Prawn
A mild creamy sauce suitable for beginners
£7.50
Regular Korma Vegetable (V)
A mild creamy sauce suitable for begginers
£6.00
Regular Korma Chicken
A mild creamy sauce suitable for begginers
£6.60
Regular Korma Chicken Tikka
A mild creamy sauce suitable for begginers
£7.50
Regular Korma Lamb
A mild creamy sauce suitable for begginers
£7.90
Regular Korma Prawn
A mild creamy sauce suitable for begginers
£7.90
Regular Korma King Prawn
A mild creamy sauce suitable for begginers
£10.90
Regular Korma Vegetable (V)
A mild creamy sauce suitable for begginers
£6.00
Regular Korma Chicken
A mild creamy sauce suitable for begginers
£6.60
Regular Korma Chicken Tikka
A mild creamy sauce suitable for begginers
£7.50
Regular Korma Prawn
A mild creamy sauce suitable for begginers
£7.50
Regular Korma Lamb
A mild creamy sauce suitable for begginers
£7.90
Regular Korma King Prawn
A mild creamy sauce suitable for begginers
£10.90
Small Bhuna Vegetable (V)
Fresh onion, tomatoes with butter, seasoned with medium sauce
£4.50
Small Bhuna Chicken
Fresh onion, tomatoes with butter, seasoned with medium sauce
£4.90
Small Bhuna Lamb
Fresh onion, tomatoes with butter, seasoned with medium sauce
£4.90
Small Bhuna Chicken Tikka
Fresh onion, tomatoes with butter, seasoned with medium sauce
£5.50
Small Bhuna Prawn
Fresh onion, tomatoes with butter, seasoned with medium sauce
£5.90
Small Bhuna King Prawn
Fresh onion, tomatoes with butter, seasoned with medium sauce
£7.50
Regular Bhuna Vegetable
Fresh onion, tomatoes with butter, seasoned with medium sauce
£6.00
Regular Bhuna Chicken
Fresh onion, tomatoes with butter, seasoned with medium sauce
£6.60
Regular Bhuna Chicken Tikka
Fresh onion, tomatoes with butter, seasoned with medium sauce
£7.50
Regular Bhuna Lamb
Fresh onion, tomatoes with butter, seasoned with medium sauce
£7.90
Regular Bhuna Prawn
Fresh onion, tomatoes with butter, seasoned with medium sauce
£7.90
Regular Bhuna King Prawn
Fresh onion, tomatoes with butter, seasoned with medium sauce
£10.90
Small Madras Vegetable (V)
Fairly hot taste
Fairly hot
£4.50
Small Madras Chicken
Fairly hot taste
Fairly hot
£4.90
Small Madras Chicken Tikka
Fairly hot taste
Fairly hot
£5.50
Small Madras Lamb
Fairly hot taste
Fairly hot
£5.90
Small Madras Prawn
Fairly hot taste
Fairly hot
£5.90
Small Madras King Prawn
Fairly hot taste
Fairly hot
£7.50
Regular Madras Vegetable
Fairly hot taste
Fairly hot
£6.00
Regular Madras Chicken
Fairly hot taste
Fairly hot
£6.60
Regular Madras Chicken Tikka
Fairly hot taste
Fairly hot
£7.50
Regular Madras Lamb
Fairly hot taste
Fairly hot
£7.90
Regular Madras Prawn
Fairly hot taste
Fairly hot
£7.90
Regular Madras King Prawn
Fairly hot taste
Fairly hot
£10.90
Small Vindaloo Vegetable (V)
Very hot fiery taste
Very hot
£4.50
Small Vindaloo Chicken
Very hot fiery taste
Very hot
£4.90
Small Vindaloo Chicken Tikka
Very hot fiery taste
Very hot
£5.50
Small Vindaloo Lamb
Very hot fiery taste
Very hot
£5.90
Small Vindaloo Prawn
Very hot fiery taste
Very hot
£5.90
Small Vindaloo King Prawn
Very hot fiery taste
Very hot
£7.50
Regular Vindaloo Vegetable
Very hot fiery taste
Fairly hot
£6.00
Regular Vindaloo Chicken
Very hot fiery taste
Fairly hot
£6.60
Regular Vindaloo Chicken Tikka
Very hot fiery taste
Fairly hot
£7.50
Regular Vindaloo Lamb
Very hot fiery taste
Fairly hot
£7.90
Regular Vindaloo Prawn
Very hot fiery taste
Fairly hot
£7.90
Regular Vindaloo King Prawn
Very hot fiery taste
Fairly hot
£10.90
Small Pathia Vegetable
A hot, sweet & sour dish
Fairly hot
£4.50
Small Pathia Chicken
A hot, sweet & sour dish
Fairly hot
£4.90
Small Pathia Chicken Tikka
A hot, sweet & sour dish
Fairly hot
£5.50
Small Pathia Lamb
A hot, sweet & sour dish
Fairly hot
£5.90
Small Pathia Prawn
A hot, sweet & sour dish
Fairly hot
£5.90
Small Pathia King Prawn
A hot, sweet & sour dish
Fairly hot
£7.50
Regular Pathia Vegetable
A hot, sweet & sour dish
Fairly hot
£6.00
Regular Pathia Chicken
A hot, sweet & sour dish
Fairly hot
£6.60
Regular Pathia Chicken Tikka
A hot, sweet & sour dish
Fairly hot
£7.50
Regular Pathia Lamb
A hot, sweet & sour dish
Fairly hot
£7.90
Regular Pathia Prawn
A hot, sweet & sour dish
Fairly hot
£7.90
Regular Pathia King Prawn
A hot, sweet & sour dish
Fairly hot
£10.90
Small Dupiaza Vegetable
A medium strength dish cooked with onion, capsicum & spices
£4.50
Small Dupiaza Chicken
A medium strength dish cooked with onion, capsicum & spices
£4.90
Small Dupiaza Chicken Tikka
A medium strength dish cooked with onion, capsicum & spices
£5.50
Small Dupiaza Lamb
A medium strength dish cooked with onion, capsicum & spices
£5.90
Small Dupiaza Prawn
A medium strength dish cooked with onion, capsicum & spices
£5.90
Small Dupiaza King Prawn
A medium strength dish cooked with onion, capsicum & spices
£7.50
Regular Dupiaza Vegetable
A medium strength dish cooked with onion, capsicum & spices
£6.00
Regular Dupiaza Chicken
A medium strength dish cooked with onion, capsicum & spices
£6.60
Regular Dupiaza Chicken Tikka
A medium strength dish cooked with onion, capsicum & spices
£7.50
Regular Dupiaza Lamb
A medium strength dish cooked with onion, capsicum & spices
£7.90
Regular Dupiaza Prawn
A medium strength dish cooked with onion, capsicum & spices
£7.90
Regular Dupiaza King Prawn
A medium strength dish cooked with onion, capsicum & spices
£10.90
Small Ceylon Vegetable
A hot, sweet & sour dish with coconut
Fairly hot
£4.50
Small Ceylon Chicken
A hot, sweet & sour dish with coconut
Fairly hot
£4.90
Small Ceylon Chicken Tikka
A hot, sweet & sour dish with coconut
Fairly hot
£5.50
Small Ceylon Lamb
A hot, sweet & sour dish with coconut
Fairly hot
£5.90
Small Ceylon Prawn
A hot, sweet & sour dish with coconut
Fairly hot
£5.90
Small Ceylon King Prawn
A hot, sweet & sour dish with coconut
Fairly hot
£7.50
Regular Ceylon Vegetable
A hot, sweet & sour dish with coconut
Fairly hot
£6.00
Regular Ceylon Chicken
A hot, sweet & sour dish with coconut
Fairly hot
£6.60
Regular Ceylon Chicken Tikka
A hot, sweet & sour dish with coconut
Fairly hot
£7.50
Regular Ceylon Lamb
A hot, sweet & sour dish with coconut
Fairly hot
£7.90
Regular Ceylon Prawn
A hot, sweet & sour dish with coconut
Fairly hot
£7.90
Regular Ceylon King Prawn
A hot, sweet & sour dish with coconut
Fairly hot
£10.90
Small Dansak Vegetable
A hot, sweet & sour dish with lentils & garlic
Fairly hot
£4.50
Small Dansak Chicken
A hot, sweet & sour dish with lentils & garlic
Fairly hot
£4.90
Small Dansak Chicken Tikka
A hot, sweet & sour dish with lentils & garlic
Fairly hot
£5.50
Small Dansak Lamb
A hot, sweet & sour dish with lentils & garlic
Fairly hot
£5.90
Small Dansak Prawn
A hot, sweet & sour dish with lentils & garlic
Fairly hot
£5.90
Small Dansak King Prawn
A hot, sweet & sour dish with lentils & garlic
Fairly hot
£7.50
Regular Dansak Vegetable
A hot, sweet & sour dish with lentils & garlic
Fairly hot
£6.00
Regular Dansak Chicken
A hot, sweet & sour dish with lentils & garlic
Fairly hot
£6.60
Regular Dansak Chicken Tikka
A hot, sweet & sour dish with lentils & garlic
Fairly hot
£7.50
Regular Dansak Lamb
A hot, sweet & sour dish with lentils & garlic
Fairly hot
£7.90
Regular Dansak Prawn
A hot, sweet & sour dish with lentils & garlic
Fairly hot
£7.90
Regular Dansak King Prawn
A hot, sweet & sour dish with lentils & garlic
Fairly hot
£10.90
Small Rogan Josh Vegetable
Slightly hot dish in rich tomato base, spicy sauce
Fairly hot
£4.50
Small Rogan Josh Chicken
Slightly hot dish in rich tomato base, spicy sauce
Fairly hot
£4.90
Small Rogan Josh Chicken Tikka
Slightly hot dish in rich tomato base, spicy sauce
Fairly hot
£5.50
Small Rogan Josh Lamb
Slightly hot dish in rich tomato base, spicy sauce
Fairly hot
£5.90
Small Rogan Josh Prawn
Slightly hot dish in rich tomato base, spicy sauce
Fairly hot
£5.90
Small Rogan Josh King Prawn
Slightly hot dish in rich tomato base, spicy sauce
Fairly hot
£7.50
Regular Rogan Josh Vegetable
Slightly hot dish in rich tomato base, spicy sauce
Fairly hot
£6.00
Regular Rogan Josh Chicken
Slightly hot dish in rich tomato base, spicy sauce
Fairly hot
£6.60
Regular Rogan Josh Chicken Tikka
Slightly hot dish in rich tomato base, spicy sauce
Fairly hot
£7.50
Regular Rogan Josh Lamb
Slightly hot dish in rich tomato base, spicy sauce
Fairly hot
£7.90
Regular Rogan Josh Prawn
Slightly hot dish in rich tomato base, spicy sauce
Fairly hot
£7.90
Regular Rogan Josh King Prawn
Slightly hot dish in rich tomato base, spicy sauce
Fairly hot
£10.90
Small Methi Vegetable
Fenugreek leaves cooked with a fairly dry spice, medium
£4.50
Small Methi Chicken
Fenugreek leaves cooked with a fairly dry spice, medium
£4.90
Small Methi Chicken Tikka
Fenugreek leaves cooked with a fairly dry spice, medium
£5.50
Small Methi Lamb
Fenugreek leaves cooked with a fairly dry spice, medium
£5.90
Small Methi Prawn
Fenugreek leaves cooked with a fairly dry spice, medium
£5.90
Small Methi King Prawn
Fenugreek leaves cooked with a fairly dry spice, medium
£7.50
Regular Methi Vegetable
Fenugreek leaves cooked with a fairly dry spice, medium
£6.00
Regular Methi Chicken
Fenugreek leaves cooked with a fairly dry spice, medium
£6.60
Regular Methi Chicken Tikka
Fenugreek leaves cooked with a fairly dry spice, medium
£7.50
Regular Methi Lamb
Fenugreek leaves cooked with a fairly dry spice, medium
£7.90
Regular Methi Prawn
Fenugreek leaves cooked with a fairly dry spice, medium
£7.90
Regular Methi King Prawn
Fenugreek leaves cooked with a fairly dry spice, medium
£10.90
Small Malaya Vegetable
Fruity combination, medium
£4.50
Small Malaya Chicken
Fruity combination, medium
£4.90
Small Malaya Chicken Tikka
Fruity combination, medium
£5.50
Small Malaya Lamb
Fruity combination, medium
£5.90
Small Malaya Prawn
Fruity combination, medium
£5.90
Small Malaya King Prawn
Fruity combination, medium
£7.50
Regular Malaya Vegetable
Fruity combination, medium
£6.00
Regular Malaya Chicken
Fruity combination, medium
£6.60
Regular Malaya Chicken Tikka
Fruity combination, medium
£7.50
Regular Malaya Lamb
Fruity combination, medium
£7.90
Regular Malaya Prawn
Fruity combination, medium
£7.90
Regular Malaya King Prawn
Fruity combination, medium
£10.90
Small Saag Vegetable
Spinach cooked to medium strength
£4.50
Small Saag Chicken
Spinach cooked to medium strength
£4.90
Small Saag Chicken Tikka
Spinach cooked to medium strength
£5.50
Small Saag Lamb
Spinach cooked to medium strength
£5.90
Small Saag Prawn
Spinach cooked to medium strength
£5.90
Small Saag King Prawn
Spinach cooked to medium strength
£7.50
Regular Saag Vegetable
Spinach cooked to medium strength
£6.00
Regular Saag Chicken
Spinach cooked to medium strength
£6.60
Regular Saag Chicken Tikka
Spinach cooked to medium strength
£7.50
Regular Saag Lamb
Spinach cooked to medium strength
£7.90
Regular Saag Prawn
Spinach cooked to medium strength
£7.90
Regular Saag King Prawn
Spinach cooked to medium strength
£10.90
Small Tikka Sally Vegetable (V)
Medium spiced dish topped with fried potato
£4.90
Small Tikka Sally Chicken
Medium spiced dish topped with fried potato
£5.50
Small Tikka Sally Lamb
Medium spiced dish topped with fried potato
£6.00
Small Tikka Sally King Prawn
Medium spiced dish topped with fried potato
£7.50
Regular Tikka Sally Vegetable (V)
Medium spiced dish topped with fried potato
£6.50
Regular Tikka Sally Chicken
Medium spiced dish topped with fried potato
£7.90
Regular Tikka Sally Lamb
Medium spiced dish topped with fried potato
£8.50
Regular Tikka Sally King Prawn
Medium spiced dish topped with fried potato
£11.50
Small Tikka Masala Vegetable (V)
Mild dish with yoghurt cream, herbs & spices
£4.90
Small Tikka Masala Chicken
Mild dish with yoghurt cream, herbs & spices
£5.50
Small Tikka Masala Lamb
Mild dish with yoghurt cream, herbs & spices
£6.00
Small Tikka Masala King Prawn
Mild dish with yoghurt cream, herbs & spices
£7.50
Regular Tikka Masala Vegetable (V)
Mild dish with yoghurt cream, herbs & spices
£6.50
Regular Tikka Masala Chicken
Mild dish with yoghurt cream, herbs & spices
£7.90
Regular Tikka Masala Lamb
Mild dish with yoghurt cream, herbs & spices
£8.50
Regular Tikka Masala King Prawn
Mild dish with yoghurt cream, herbs & spices
£11.50
Regular Tikka Jalfrezi - King Prawn
Spicy dish with fresh chillies & spring onion
Fairly hot
£11.50
Small Tikka Jalfrezi Vegetable (V)
Spicy dish with fresh chillies & spring onion
Fairly hot
£4.90
Small Tikka Jalfrezi Chicken
Spicy dish with fresh chillies & spring onion
Fairly hot
£5.50
Small Tikka Jalfrezi Lamb
Spicy dish with fresh chillies & spring onion
Fairly hot
£6.00
Small Tikka Jalfrezi King Prawn
Spicy dish with fresh chillies & spring onion
Fairly hot
£7.50
Regular Tikka Jalfrezi Vegetable (V)
Spicy dish with fresh chillies & spring onion
Fairly hot
£6.50
Regular Tikka Jalfrezi Chicken
Spicy dish with fresh chillies & spring onion
Fairly hot
£7.90
Regular Tikka Jalfrezi Lamb
Spicy dish with fresh chillies & spring onion
Fairly hot
£8.50
Small Tikka Begoni Vegetable (V)
Medium spiced dish cooked with fresh aubergines
£4.90
Small Tikka Begoni Chicken
Medium spiced dish cooked with fresh aubergines
£5.50
Small Tikka Begoni Lamb
Medium spiced dish cooked with fresh aubergines
£6.00
Small Tikka Begoni King Prawn
Medium spiced dish cooked with fresh aubergines
£7.50
Regular Tikka Begoni Vegetable (V)
Medium spiced dish cooked with fresh aubergines
£6.50
Regular Tikka Begoni Chicken
Medium spiced dish cooked with fresh aubergines
£7.90
Regular Tikka Begoni Lamb
Medium spiced dish cooked with fresh aubergines
£8.50
Regular Tikka Begoni King Prawn
Medium spiced dish cooked with fresh aubergines
£11.50
Small Tikka Shagor Vegetable (V)
Medium spiced dish with fresh herbs, cream & mushrooms
£4.90
Small Tikka Shagor Chicken
Medium spiced dish with fresh herbs, cream & mushrooms
£5.50
Small Tikka Shagor Lamb
Medium spiced dish with fresh herbs, cream & mushrooms
£6.00
Small Tikka Shagor King Prawn
Medium spiced dish with fresh herbs, cream & mushrooms
£7.50
Regular Tikka Shagor Vegetable (V)
Medium spiced dish with fresh herbs, cream & mushrooms
£6.50
Regular Tikka Shagor Chicken
Medium spiced dish with fresh herbs, cream & mushrooms
£7.90
Regular Tikka Shagor Lamb
Medium spiced dish with fresh herbs, cream & mushrooms
£8.50
Regular Tikka Shagor King Prawn
Medium spiced dish with fresh herbs, cream & mushrooms
£11.50
Small Tikka Pasanda Vegetable (V)
Mild to medium dish cooked in a creamy sauce
£4.90
Small Tikka Pasanda Chicken
Mild to medium dish cooked in a creamy sauce
£5.50
Small Tikka Pasanda Lamb
Mild to medium dish cooked in a creamy sauce
£6.00
Small Tikka Pasanda King Prawn
Mild to medium dish cooked in a creamy sauce
£7.50
Regular Tikka Pasanda Vegetable (V)
Mild to medium dish cooked in a creamy sauce
£6.50
Regular Tikka Pasanda Chicken
Mild to medium dish cooked in a creamy sauce
£7.90
Regular Tikka Pasanda Lamb
Mild to medium dish cooked in a creamy sauce
£8.50
Regular Tikka Pasanda King Prawn
Mild to medium dish cooked in a creamy sauce
£11.50
Small Tikka Korai Vegetable (V)
Medium dish with onion, peppers, ginger & herbs
£4.90
Small Tikka Korai Chicken
Medium dish with onion, peppers, ginger & herbs
£5.50
Small Tikka Korai Lamb
Medium dish with onion, peppers, ginger & herbs
£6.00
Small Tikka Korai King Prawn
Medium dish with onion, peppers, ginger & herbs
£7.50
Regular Tikka Korai Vegetable (V)
Medium dish with onion, peppers, ginger & herbs
£6.50
Regular Tikka Korai Chicken
Medium dish with onion, peppers, ginger & herbs
£7.90
Regular Tikka Korai Lamb
Medium dish with onion, peppers, ginger & herbs
£8.50
Regular Tikka Korai King Prawn
Medium dish with onion, peppers, ginger & herbs
£11.50
Small Tikka Bengal Vegetable (V)
Hot dish cooked with green pepper, onion & tomato
Fairly hot
£4.90
Small Tikka Bengal Chicken
Hot dish cooked with green pepper, onion & tomato
Fairly hot
£5.50
Small Tikka Bengal Lamb
Hot dish cooked with green pepper, onion & tomato
Fairly hot
£6.00
Small Tikka Bengal King Prawn
Hot dish cooked with green pepper, onion & tomato
Fairly hot
£7.50
Regular Tikka Bengal Vegetable (V)
Hot dish cooked with green pepper, onion & tomato
Fairly hot
£6.50
Regular Tikka Bengal Chicken
Hot dish cooked with green pepper, onion & tomato
Fairly hot
£7.90
Regular Tikka Bengal Lamb
Hot dish cooked with green pepper, onion & tomato
Fairly hot
£8.50
Regular Tikka Bengal King Prawn
Hot dish cooked with green pepper, onion & tomato
Fairly hot
£11.50
Small Tikka Garlic Chilli Vegetable (V)
Fairly hot dry dish cooked with garlic & fresh chillies
£4.90
Small Tikka Garlic Chilli Chicken
Fairly hot dry dish cooked with garlic & fresh chillies
£5.50
Small Tikka Garlic Chilli Lamb
Fairly hot dry dish cooked with garlic & fresh chillies
£6.00
Small Tikka Garlic Chilli King Prawn
Fairly hot dry dish cooked with garlic & fresh chillies
£7.50
Regular Tikka Garlic Chilli Vegetable (V)
Fairly hot dry dish cooked with garlic & fresh chillies
£6.50
Regular Tikka Garlic Chilli Chicken
Fairly hot dry dish cooked with garlic & fresh chillies
£7.90
Regular Tikka Garlic Chilli Lamb
Fairly hot dry dish cooked with garlic & fresh chillies
£8.50
Regular Tikka Garlic Chilli King Prawn
Fairly hot dry dish cooked with garlic & fresh chillies
£11.50
Small Tikka Rezala Vegetable (V)
Medium, rich sauce with a touch of cream, fresh chilli & coriander
£4.90
Small Tikka Rezala Chicken
Medium, rich sauce with a touch of cream, fresh chilli & coriander
£5.50
Small Tikka Rezala Lamb
Medium, rich sauce with a touch of cream, fresh chilli & coriander
£6.00
Small Tikka Rezala King Prawn
Medium, rich sauce with a touch of cream, fresh chilli & coriander
£7.50
Regular Tikka Rezala Vegetable (V)
Medium, rich sauce with a touch of cream, fresh chilli & coriander
£6.50
Regular Tikka Rezala Chicken
Medium, rich sauce with a touch of cream, fresh chilli & coriander
£7.90
Regular Tikka Rezala Lamb
Medium, rich sauce with a touch of cream, fresh chilli & coriander
£8.50
Regular Tikka Rezala King Prawn
Medium, rich sauce with a touch of cream, fresh chilli & coriander
£11.50
Small Tikka Chilli Masala Vegetable (V)
Hot dish cooked with fresh green chillies & peppers
£4.90
Small Tikka Chilli Masala Chicken
Hot dish cooked with fresh green chillies & peppers
£5.50
Small Tikka Chilli Masala Lamb
Hot dish cooked with fresh green chillies & peppers
£6.00
Small Tikka Chilli Masala King Prawn
Hot dish cooked with fresh green chillies & peppers
£7.50
Regular Tikka Chilli Masala Vegetable (V)
Hot dish cooked with fresh green chillies & peppers
£6.50
Regular Tikka Chilli Masala Chicken
Hot dish cooked with fresh green chillies & peppers
£7.90
Regular Tikka Chilli Masala Lamb
Hot dish cooked with fresh green chillies & peppers
£8.50
Regular Tikka Chilli Masala King Prawn
Hot dish cooked with fresh green chillies & peppers
£11.50
Tandoori King Prawn Balti
£12.50
Chicken & Mushroom Balti
With onions, tomato & selected spices to provied a medium strength thick sauce
£7.90
Chicken Saag Balti
Fresh spinach
£7.90
Balti Aloo Chana
Vegetarian
£7.50
House Special Mixed Balti
£10.90
Mixed Vegetable Balti
Vegetarian
£6.90
Chicken Tikka Biryani
Marinated overnight, grilled then stir-fried with basmati rice & onion, served with a vegetable curry
£9.90
Lamb Tikka Biryani
Marinated overnight, grilled then stir-fried with basmati rice & onion, served with a vegetable curry
£10.50
House Special Mixed Biryani
Chicken tikka, lamb tikka, king prawn, mincemeat, mushroom & prawns
£11.50
Aloo Paratha
Stuffed with potato
£3.90
Daal Samba
Vegetable & lentil
£3.50
Saag Aloo
Spinach & potato
£3.50
Bombay Aloo
Spicy hot potato
Fairly hot
£3.50
Mushroom Bhaji
Spicy mushroom
£3.50
Aloo Gobi
Cauliflower & potato
£3.50
Saag Paneer
Spinach cooked with cheese
£3.50
Muttar Paneer
Peas cooked with cheese
£3.50
Saag Daal
Spinach & lentil
£3.50
Aloo Chana
Potato & chickpeas
£3.50
Keema Fried Rice
Spicy mincemeat
£3.50
Create Your Own Set Meal x 1 People Regular
2 x Poppadoms & chutneys
Any starters
Any main dish
Any rice or naan
Any side dish
£15.50
Create Your Own Set Meal x 1 People Vegetables
2 x Poppadoms & chutneys
Any starters
Any main dish
Any rice or naan
Any side dish
£15.50
Create Your Own Set Meal x 1 People Regular
2 x Poppadoms & chutneys
Any starters
Any main dish
Any rice or naan
Any side dish
£15.50
Create Your Own Set Meal x 1 People Vegetables
2 x Poppadoms & chutneys
Any starters
Any main dish
Any rice or naan
Any side dish
£15.50
Create Your Own Set Meal x 1 People Regular
2 x Poppadoms & chutneys
Any starters
Any main dish
Any rice or naan
Any side dish
£15.50
Create Your Own Set Meal x 1 People Vegetables
2 x Poppadoms & chutneys
Any starters
Any main dish
Any rice or naan
Any side dish
£15.50
Create Your Own Set Meal x 2 People Regular
2 x Poppadoms & chutneys
Any 2 starters
Any 2 main dish
Any rice
Any naan
Any side dish
£27.90
Create Your Own Set Meal x 2 People Vegetables
2 x Poppadoms & chutneys
Any 2 starters
Any 2 main dish
Any rice
Any naan
Any side dish
£27.90
Create Your Own Set Meal x 2 People Regular
2 x Poppadoms & chutneys
Any 2 starters
Any 2 main dish
Any rice
Any naan
Any side dish
£27.90
Create Your Own Set Meal x 2 People Vegetables
2 x Poppadoms & chutneys
Any 2 starters
Any 2 main dish
Any rice
Any naan
Any side dish
£27.90
Create Your Own Set Meal x 2 People Regular
2 x Poppadoms & chutneys
Any 2 starters
Any 2 main dish
Any rice
Any naan
Any side dish
£27.90
Create Your Own Set Meal x 2 People Vegetables
2 x Poppadoms & chutneys
Any 2 starters
Any 2 main dish
Any rice
Any naan
Any side dish
£27.90
Create Your Own Set Meal x 2 People Regular
2 x Poppadoms & chutneys
Any 2 starters
Any 2 main dish
Any rice
Any naan
Any side dish
£27.90
Create Your Own Set Meal x 2 People Vegetables
2 x Poppadoms & chutneys
Any 2 starters
Any 2 main dish
Any rice
Any naan
Any side dish
£27.90
Create Your Own Set Meal x 4 People Regular
4 x Poppadoms & chutneys
Any 4 starters
Any 4 main dish
Any 2 rice
Any 2 naan
Any 2 side dish
£53.90
Create Your Own Set Meal x 4 People Vegetables
4 x Poppadoms & chutneys
Any 4 starters
Any 4 main dish
Any 2 rice
Any 2 naan
Any 2 side dish
£53.90
Create Your Own Set Meal x 4 People Regular
4 x Poppadoms & chutneys
Any 4 starters
Any 4 main dish
Any 2 rice
Any 2 naan
Any 2 side dish
£53.90
Create Your Own Set Meal x 4 People Vegetables
4 x Poppadoms & chutneys
Any 4 starters
Any 4 main dish
Any 2 rice
Any 2 naan
Any 2 side dish
£53.90
Create Your Own Set Meal x 4 People Regular
4 x Poppadoms & chutneys
Any 4 starters
Any 4 main dish
Any 2 rice
Any 2 naan
Any 2 side dish
£53.90
Create Your Own Set Meal x 4 People Vegetables
4 x Poppadoms & chutneys
Any 4 starters
Any 4 main dish
Any 2 rice
Any 2 naan
Any 2 side dish
£53.90
Meal Deal A For 2 People Sunday to Thursday
Starter : onion bhaji, chicken tikka
Main dish: chicken tikka masala, chicken bhuna
Side dish: pilau rice x 1, bombay potato x 1, mango chutney, poppadoms, x 2, onion salad, mint sauce
£15.90
Meal Deal A For 2 People Friday & Saturday
Starter : onion bhaji, chicken tikka
Main dish: chicken tikka masala, chicken bhuna
Side dish: pilau rice x 1, bombay potato x 1, mango chutney, poppadoms, x 2, onion salad, mint sauce
£20.00
Meal Deal B For 2 People Sunday to Thursday
Starters: onion bhaji, chicken tikka
Main dish: chicken korma, lamb balti
Side dish: naan x 1, pilau rice x 1, mango chutney, poppadoms x 2, onion salad, mint sauce
£15.90
Meal Deal B For 2 People Friday & Saturday
Starters: onion bhaji, chicken tikka
Main dish: chicken korma, lamb balti
Side dish: naan x 1, pilau rice x 1, mango chutney, poppadoms x 2, onion salad, mint sauce
£20.00
Chicken Nuggets & Chips
5 pieces of chicken
£4.50
Chicken Tikka & Chips
5 pieces of chicken
£5.50
Contact Us
Find Us
12 High East Street Dorchester, Dorset, DT11HS
We deliver to
DT1, DT2, DT3