About Us
The Balti Express is a Indian takeaway in Dorset. Why don't you try our Small Dansak or Small Saag?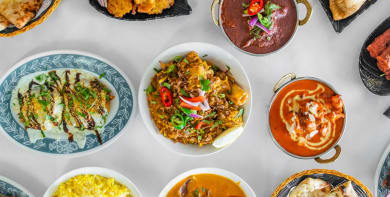 Reviews
276 reviews
Sharon
"Excellent food. Good communication. Polite delivery person."
14/05/2021
susan
"Friendly delivery driver Plenty of really tasty hot food. Highly recommend"
11/05/2021
Neil
"Delicious. On time. Hot food. Absolutely perfect. Couldn't have asked for better service. Probably one of the best takeaway curries I've had in terms of qualility and quantity!"
10/05/2021
Rachel
"Always in time and always great food"
08/05/2021
Menu
Prawn on Puri
Bhuna prawns on light fluffy bread
£5.50
Chana Chaat
Chickpeas with chaat spices
£3.50
Special Mixed Chaat
Chicken tikka, tomato, green peppers, onions, spinach, lightly spiced charred masala
£4.90
Samosa Chicken
Vegetarian
£3.90
Samosa Vegetable
Vegetarian
£3.90
Mixed Kebab Starter
With onion bhaji, chicken tikka & seekh kebab
£4.80
Seekh Kebab
Minced lamb mixed with herbs & spices, skewered & grilled in the tandoor
£3.80
Nargis Kebab Starter
Egg wrapped with mince lamb in masala
£3.90
Chicken Tikka Starter
Marinated chicken cooked in clay oven
£4.20
Onion Bhaji
Sliced onion blended with gram flour & deep fried
Vegetarian
£3.50
Chicken Chaat on Puri
Shredded chicken cooked in chaat spices served on puri bread
£4.90
Garlic Fried Mushroom Paneer
Buttered mushrooms with garlic & Indian cheese
£4.50
Chicken Pakora
Diced chicken with fresh herbs & spices, fried with breadcumbs
£4.80
Vegetables Pakora
Potatoes, aubergines & chillies, fried with spices & chickpea flour
Vegetarian
£3.50
Garlic Chilli Chingri
Succulent tiger prawns cooked with garlic, chilli & coriander
Fairly hot
£5.90
Chingri Pathia Puri
Sweet sour tiger prawns cooked with coconut & served on puri bread
£5.90
Mixed Platter
Chicken tikka, onion bhaji, lamb tikka & samosa
£5.90
Chicken Tikka Wrap
Tikka rolled in a naan bread, served with salad & garlic mayo or mint sauce
£5.90
Shami Kebab Starter
Spiced mince shaped & fried, topped with an omelette
£4.50
Tiger Prawn Special
Chef's special spice, mild & creamy
£5.90
Tandoori Chicken Main
Half, on the bone
£7.50
Tandoori Mixed Grill
Tandoori chicken, chicken tikka, lamb tikka & seekh kebab
£10.90
Chicken Tikka Main
Boneless marinated chicken
£7.90
Chicken Shashlik
Green pepper, onion, tomato & cucumber, grilled & spice
£8.90
King Prawn Tikka
King prawns marinated with spices & grilled in tandoori oven
£12.90
Special Chana Chicken
Medium hot, spiced dish with chickpeas & onion
£8.50
Garlic Butter Chicken
Succulent pieces of grilled chicken breast cooked with butter & fresh cream, mild
£8.50
Green Chicken Curry
From Goa, boneless pieces of chicken breast cooked with green chillies, tamarind & mint
£8.50
Tangy Tamarind Chicken
Hyderabadi lamb or chicken cooked with toasted spices & tamarind
£8.50
Tangy Tamarind Lamb
Hyderabadi lamb or chicken cooked with toasted spices & tamarind
£8.50
Garlic Honey Chicken
Medium, cooked with garlic, honey & a few herbs & special spices
£8.50
Garlic Honey Lamb
Medium, cooked with garlic, honey & a few herbs & special spices
£8.50
Naga Chilli Special Chicken
Chef's special spicy sauce with chopped garlic, tomato, onion & hot naga chilli
Fairly hot
£8.50
Naga Chilli Special Lamb
Chef's special spicy sauce with chopped garlic, tomato, onion & hot naga chilli
Fairly hot
£8.50
Peri Gosth Chicken
Succulent grilled chicken or lamb stir-fried with mixed peppers & fried onion simmered with chef's special sauce
£8.50
Peri Gosth Lamb
Succulent grilled chicken or lamb stir-fried with mixed peppers & fried onion simmered with chef's special sauce
£8.50
Tawa Paneer Chicken
Strips of grilled chicken or lamb stir-fried with a combination of fresh peppers & spices, finished with mild cheddar cheese
£8.90
Tawa Paneer Lamb
Strips of grilled chicken or lamb stir-fried with a combination of fresh peppers & spices, finished with mild cheddar cheese
£8.90
Tapeli Chicken
Cooked with fresh garlic, ginger, capsicum, tomatoes & decorated with fresh cream, onions & coriander
£8.50
Tapeli Lamb
Cooked with fresh garlic, ginger, capsicum, tomatoes & decorated with fresh cream, onions & coriander
£8.50
Achari Chicken
Chicken or lamb cooked with sweet, sour & hot tantalising pickle, thick sauce
Fairly hot
£8.50
Achari Lamb
Chicken or lamb cooked with sweet, sour & hot tantalising pickle, thick sauce
Fairly hot
£8.50
Special Brinjal Curry
Aubergine & green chillies cooked in a velvet smooth tamarind sauce with yoghurt
Vegetarian
£7.90
House Special Mixed Curry
Medium with chicken, lamb, prawn & king prawn
£10.90
Jaipuri Chicken
Marinated chicken or lamb simmered with fried mushrooms, onion, capsicum & punjabi masala
Hot
£8.90
Jaipuri Lamb
Marinated chicken or lamb simmered with fried mushrooms, onion, capsicum & punjabi masala
Hot
£8.90
Goan Fish Curry
Fillets of tilapia fish, cooked in a rich spicy sauce with coconut & a hint of tamarind
£8.50
Methi Kalia Chicken
Slices of marinated chicken or lamb simmered in a lentil sauce with garlic & spinach for a wonderful aromatic experience
£8.50
Methi Kalia Lamb
Slices of marinated chicken or lamb simmered in a lentil sauce with garlic & spinach for a wonderful aromatic experience
£8.50
Chicken Bahari
Sweet & sour flavour with ginger, yoghurt & chilli
£8.50
Hyderabadi Chicken
Mango chaat, onion & a little bit of ginger, tantalising flavour
£8.50
Chicken Aloo Paneer
Chicken cooked with cheese, potato & cream sauce
£8.90
Chicken Saag Paneer
Chicken cooked with cheese, spinach in cream sauce
£8.90
Garlic Chilli Masala Chicken
Chicken or lamb cooked in a fresh garlic, green chilli, coriander & special sauce
Fairly hot
£8.50
Garlic Chilli Masala Lamb
Chicken or lamb cooked in a fresh garlic, green chilli, coriander & special sauce
Fairly hot
£8.50
Tandoori Shashlik
Marinated chicken, lamb, tandoori chicken & seekh kebab mixed together, cooked with ghee in a special sauce & garnished with cream
Hot
£9.90
Small Locknow Vegetable
A mild dish with mushroom
£4.50
Small Locknow Chicken
A mild dish with mushroom
£4.90
Small Locknow Chicken Tikka
A mild dish with mushroom
£5.50
Small Locknow Lamb
A mild dish with mushroom
£5.90
Small Locknow Prawn
A mild dish with mushroom
£5.90
Small Locknow King Prawn
A mild dish with mushroom
£7.50
Regular Locknow Vegetable (V)
A mild dish with mushroom
£6.00
Regular Locknow Chicken
A mild dish with mushroom
£6.60
Regular Locknow Chicken Tikka
A mild dish with mushroom
£7.50
Regular Locknow Lamb Tikka
A mild dish with mushroom
£7.50
Regular Locknow Lamb
A mild dish with mushroom
£7.90
Regular Locknow Prawn
A mild dish with mushroom
£7.90
Regular Locknow King Prawn
A mild dish with mushroom
£10.90
Small Korma Vegetable
A mild creamy sauce suitable for beginners
£4.50
Small Korma Chicken
A mild creamy sauce suitable for beginners
£4.90
Small Korma Chicken Tikka
A mild creamy sauce suitable for beginners
£5.50
Small Korma Lamb
A mild creamy sauce suitable for beginners
£5.90
Small Korma Prawn
A mild creamy sauce suitable for beginners
£5.90
Small Korma King Prawn
A mild creamy sauce suitable for beginners
£7.50
Regular Korma Vegetable (V)
A mild creamy sauce suitable for begginers
£6.00
Regular Korma Chicken
A mild creamy sauce suitable for begginers
£6.60
Regular Korma Chicken Tikka
A mild creamy sauce suitable for begginers
£7.50
Regular Korma Lamb
A mild creamy sauce suitable for begginers
£7.90
Regular Korma Prawn
A mild creamy sauce suitable for begginers
£7.90
Regular Korma King Prawn
A mild creamy sauce suitable for begginers
£10.90
Regular Korma Vegetable (V)
A mild creamy sauce suitable for begginers
£6.00
Regular Korma Chicken
A mild creamy sauce suitable for begginers
£6.60
Regular Korma Chicken Tikka
A mild creamy sauce suitable for begginers
£7.50
Regular Korma Prawn
A mild creamy sauce suitable for begginers
£7.50
Regular Korma Lamb
A mild creamy sauce suitable for begginers
£7.90
Regular Korma King Prawn
A mild creamy sauce suitable for begginers
£10.90
Small Bhuna Vegetable (V)
Fresh onion, tomatoes with butter, seasoned with medium sauce
£4.50
Small Bhuna Chicken
Fresh onion, tomatoes with butter, seasoned with medium sauce
£4.90
Small Bhuna Lamb
Fresh onion, tomatoes with butter, seasoned with medium sauce
£4.90
Small Bhuna Chicken Tikka
Fresh onion, tomatoes with butter, seasoned with medium sauce
£5.50
Small Bhuna Prawn
Fresh onion, tomatoes with butter, seasoned with medium sauce
£5.90
Small Bhuna King Prawn
Fresh onion, tomatoes with butter, seasoned with medium sauce
£7.50
Regular Bhuna Vegetable
Fresh onion, tomatoes with butter, seasoned with medium sauce
£6.00
Regular Bhuna Chicken
Fresh onion, tomatoes with butter, seasoned with medium sauce
£6.60
Regular Bhuna Chicken Tikka
Fresh onion, tomatoes with butter, seasoned with medium sauce
£7.50
Regular Bhuna Lamb
Fresh onion, tomatoes with butter, seasoned with medium sauce
£7.90
Regular Bhuna Prawn
Fresh onion, tomatoes with butter, seasoned with medium sauce
£7.90
Regular Bhuna King Prawn
Fresh onion, tomatoes with butter, seasoned with medium sauce
£10.90
Small Madras Vegetable (V)
Fairly hot taste
Fairly hot
£4.50
Small Madras Chicken
Fairly hot taste
Fairly hot
£4.90
Small Madras Chicken Tikka
Fairly hot taste
Fairly hot
£5.50
Small Madras Lamb
Fairly hot taste
Fairly hot
£5.90
Small Madras Prawn
Fairly hot taste
Fairly hot
£5.90
Small Madras King Prawn
Fairly hot taste
Fairly hot
£7.50
Regular Madras Vegetable
Fairly hot taste
Fairly hot
£6.00
Regular Madras Chicken
Fairly hot taste
Fairly hot
£6.60
Regular Madras Chicken Tikka
Fairly hot taste
Fairly hot
£7.50
Regular Madras Lamb
Fairly hot taste
Fairly hot
£7.90
Regular Madras Prawn
Fairly hot taste
Fairly hot
£7.90
Regular Madras King Prawn
Fairly hot taste
Fairly hot
£10.90
Small Vindaloo Vegetable (V)
Very hot fiery taste
Very hot
£4.50
Small Vindaloo Chicken
Very hot fiery taste
Very hot
£4.90
Small Vindaloo Chicken Tikka
Very hot fiery taste
Very hot
£5.50
Small Vindaloo Lamb
Very hot fiery taste
Very hot
£5.90
Small Vindaloo Prawn
Very hot fiery taste
Very hot
£5.90
Small Vindaloo King Prawn
Very hot fiery taste
Very hot
£7.50
Regular Vindaloo Vegetable
Very hot fiery taste
Fairly hot
£6.00
Regular Vindaloo Chicken
Very hot fiery taste
Fairly hot
£6.60
Regular Vindaloo Chicken Tikka
Very hot fiery taste
Fairly hot
£7.50
Regular Vindaloo Lamb
Very hot fiery taste
Fairly hot
£7.90
Regular Vindaloo Prawn
Very hot fiery taste
Fairly hot
£7.90
Regular Vindaloo King Prawn
Very hot fiery taste
Fairly hot
£10.90
Small Pathia Vegetable
A hot, sweet & sour dish
Fairly hot
£4.50
Small Pathia Chicken
A hot, sweet & sour dish
Fairly hot
£4.90
Small Pathia Chicken Tikka
A hot, sweet & sour dish
Fairly hot
£5.50
Small Pathia Lamb
A hot, sweet & sour dish
Fairly hot
£5.90
Small Pathia Prawn
A hot, sweet & sour dish
Fairly hot
£5.90
Small Pathia King Prawn
A hot, sweet & sour dish
Fairly hot
£7.50
Regular Pathia Vegetable
A hot, sweet & sour dish
Fairly hot
£6.00
Regular Pathia Chicken
A hot, sweet & sour dish
Fairly hot
£6.60
Regular Pathia Chicken Tikka
A hot, sweet & sour dish
Fairly hot
£7.50
Regular Pathia Lamb
A hot, sweet & sour dish
Fairly hot
£7.90
Regular Pathia Prawn
A hot, sweet & sour dish
Fairly hot
£7.90
Regular Pathia King Prawn
A hot, sweet & sour dish
Fairly hot
£10.90
Small Dupiaza Vegetable
A medium strength dish cooked with onion, capsicum & spices
£4.50
Small Dupiaza Chicken
A medium strength dish cooked with onion, capsicum & spices
£4.90
Small Dupiaza Chicken Tikka
A medium strength dish cooked with onion, capsicum & spices
£5.50
Small Dupiaza Lamb
A medium strength dish cooked with onion, capsicum & spices
£5.90
Small Dupiaza Prawn
A medium strength dish cooked with onion, capsicum & spices
£5.90
Small Dupiaza King Prawn
A medium strength dish cooked with onion, capsicum & spices
£7.50
Regular Dupiaza Vegetable
A medium strength dish cooked with onion, capsicum & spices
£6.00
Regular Dupiaza Chicken
A medium strength dish cooked with onion, capsicum & spices
£6.60
Regular Dupiaza Chicken Tikka
A medium strength dish cooked with onion, capsicum & spices
£7.50
Regular Dupiaza Lamb
A medium strength dish cooked with onion, capsicum & spices
£7.90
Regular Dupiaza Prawn
A medium strength dish cooked with onion, capsicum & spices
£7.90
Regular Dupiaza King Prawn
A medium strength dish cooked with onion, capsicum & spices
£10.90
Small Ceylon Vegetable
A hot, sweet & sour dish with coconut
Fairly hot
£4.50
Small Ceylon Chicken
A hot, sweet & sour dish with coconut
Fairly hot
£4.90
Small Ceylon Chicken Tikka
A hot, sweet & sour dish with coconut
Fairly hot
£5.50
Small Ceylon Lamb
A hot, sweet & sour dish with coconut
Fairly hot
£5.90
Small Ceylon Prawn
A hot, sweet & sour dish with coconut
Fairly hot
£5.90
Small Ceylon King Prawn
A hot, sweet & sour dish with coconut
Fairly hot
£7.50
Regular Ceylon Vegetable
A hot, sweet & sour dish with coconut
Fairly hot
£6.00
Regular Ceylon Chicken
A hot, sweet & sour dish with coconut
Fairly hot
£6.60
Regular Ceylon Chicken Tikka
A hot, sweet & sour dish with coconut
Fairly hot
£7.50
Regular Ceylon Lamb
A hot, sweet & sour dish with coconut
Fairly hot
£7.90
Regular Ceylon Prawn
A hot, sweet & sour dish with coconut
Fairly hot
£7.90
Regular Ceylon King Prawn
A hot, sweet & sour dish with coconut
Fairly hot
£10.90
Small Dansak Vegetable
A hot, sweet & sour dish with lentils & garlic
Fairly hot
£4.50
Small Dansak Chicken
A hot, sweet & sour dish with lentils & garlic
Fairly hot
£4.90
Small Dansak Chicken Tikka
A hot, sweet & sour dish with lentils & garlic
Fairly hot
£5.50
Small Dansak Lamb
A hot, sweet & sour dish with lentils & garlic
Fairly hot
£5.90
Small Dansak Prawn
A hot, sweet & sour dish with lentils & garlic
Fairly hot
£5.90
Small Dansak King Prawn
A hot, sweet & sour dish with lentils & garlic
Fairly hot
£7.50
Regular Dansak Vegetable
A hot, sweet & sour dish with lentils & garlic
Fairly hot
£6.00
Regular Dansak Chicken
A hot, sweet & sour dish with lentils & garlic
Fairly hot
£6.60
Regular Dansak Chicken Tikka
A hot, sweet & sour dish with lentils & garlic
Fairly hot
£7.50
Regular Dansak Lamb
A hot, sweet & sour dish with lentils & garlic
Fairly hot
£7.90
Regular Dansak Prawn
A hot, sweet & sour dish with lentils & garlic
Fairly hot
£7.90
Regular Dansak King Prawn
A hot, sweet & sour dish with lentils & garlic
Fairly hot
£10.90
Small Rogan Josh Vegetable
Slightly hot dish in rich tomato base, spicy sauce
Fairly hot
£4.50
Small Rogan Josh Chicken
Slightly hot dish in rich tomato base, spicy sauce
Fairly hot
£4.90
Small Rogan Josh Chicken Tikka
Slightly hot dish in rich tomato base, spicy sauce
Fairly hot
£5.50
Small Rogan Josh Lamb
Slightly hot dish in rich tomato base, spicy sauce
Fairly hot
£5.90
Small Rogan Josh Prawn
Slightly hot dish in rich tomato base, spicy sauce
Fairly hot
£5.90
Small Rogan Josh King Prawn
Slightly hot dish in rich tomato base, spicy sauce
Fairly hot
£7.50
Regular Rogan Josh Vegetable
Slightly hot dish in rich tomato base, spicy sauce
Fairly hot
£6.00
Regular Rogan Josh Chicken
Slightly hot dish in rich tomato base, spicy sauce
Fairly hot
£6.60
Regular Rogan Josh Chicken Tikka
Slightly hot dish in rich tomato base, spicy sauce
Fairly hot
£7.50
Regular Rogan Josh Lamb
Slightly hot dish in rich tomato base, spicy sauce
Fairly hot
£7.90
Regular Rogan Josh Prawn
Slightly hot dish in rich tomato base, spicy sauce
Fairly hot
£7.90
Regular Rogan Josh King Prawn
Slightly hot dish in rich tomato base, spicy sauce
Fairly hot
£10.90
Small Methi Vegetable
Fenugreek leaves cooked with a fairly dry spice, medium
£4.50
Small Methi Chicken
Fenugreek leaves cooked with a fairly dry spice, medium
£4.90
Small Methi Chicken Tikka
Fenugreek leaves cooked with a fairly dry spice, medium
£5.50
Small Methi Lamb
Fenugreek leaves cooked with a fairly dry spice, medium
£5.90
Small Methi Prawn
Fenugreek leaves cooked with a fairly dry spice, medium
£5.90
Small Methi King Prawn
Fenugreek leaves cooked with a fairly dry spice, medium
£7.50
Regular Methi Vegetable
Fenugreek leaves cooked with a fairly dry spice, medium
£6.00
Regular Methi Chicken
Fenugreek leaves cooked with a fairly dry spice, medium
£6.60
Regular Methi Chicken Tikka
Fenugreek leaves cooked with a fairly dry spice, medium
£7.50
Regular Methi Lamb
Fenugreek leaves cooked with a fairly dry spice, medium
£7.90
Regular Methi Prawn
Fenugreek leaves cooked with a fairly dry spice, medium
£7.90
Regular Methi King Prawn
Fenugreek leaves cooked with a fairly dry spice, medium
£10.90
Small Malaya Vegetable
Fruity combination, medium
£4.50
Small Malaya Chicken
Fruity combination, medium
£4.90
Small Malaya Chicken Tikka
Fruity combination, medium
£5.50
Small Malaya Lamb
Fruity combination, medium
£5.90
Small Malaya Prawn
Fruity combination, medium
£5.90
Small Malaya King Prawn
Fruity combination, medium
£7.50
Regular Malaya Vegetable
Fruity combination, medium
£6.00
Regular Malaya Chicken
Fruity combination, medium
£6.60
Regular Malaya Chicken Tikka
Fruity combination, medium
£7.50
Regular Malaya Lamb
Fruity combination, medium
£7.90
Regular Malaya Prawn
Fruity combination, medium
£7.90
Regular Malaya King Prawn
Fruity combination, medium
£10.90
Small Saag Vegetable
Spinach cooked to medium strength
£4.50
Small Saag Chicken
Spinach cooked to medium strength
£4.90
Small Saag Chicken Tikka
Spinach cooked to medium strength
£5.50
Small Saag Lamb
Spinach cooked to medium strength
£5.90
Small Saag Prawn
Spinach cooked to medium strength
£5.90
Small Saag King Prawn
Spinach cooked to medium strength
£7.50
Regular Saag Vegetable
Spinach cooked to medium strength
£6.00
Regular Saag Chicken
Spinach cooked to medium strength
£6.60
Regular Saag Chicken Tikka
Spinach cooked to medium strength
£7.50
Regular Saag Lamb
Spinach cooked to medium strength
£7.90
Regular Saag Prawn
Spinach cooked to medium strength
£7.90
Regular Saag King Prawn
Spinach cooked to medium strength
£10.90
Small Tikka Sally Vegetable (V)
Medium spiced dish topped with fried potato
£4.90
Small Tikka Sally Chicken
Medium spiced dish topped with fried potato
£5.50
Small Tikka Sally Lamb
Medium spiced dish topped with fried potato
£6.00
Small Tikka Sally King Prawn
Medium spiced dish topped with fried potato
£7.50
Regular Tikka Sally Vegetable (V)
Medium spiced dish topped with fried potato
£6.50
Regular Tikka Sally Chicken
Medium spiced dish topped with fried potato
£7.90
Regular Tikka Sally Lamb
Medium spiced dish topped with fried potato
£8.50
Regular Tikka Sally King Prawn
Medium spiced dish topped with fried potato
£11.50
Small Tikka Masala Vegetable (V)
Mild dish with yoghurt cream, herbs & spices
£4.90
Small Tikka Masala Chicken
Mild dish with yoghurt cream, herbs & spices
£5.50
Small Tikka Masala Lamb
Mild dish with yoghurt cream, herbs & spices
£6.00
Small Tikka Masala King Prawn
Mild dish with yoghurt cream, herbs & spices
£7.50
Regular Tikka Masala Vegetable (V)
Mild dish with yoghurt cream, herbs & spices
£6.50
Regular Tikka Masala Chicken
Mild dish with yoghurt cream, herbs & spices
£7.90
Regular Tikka Masala Lamb
Mild dish with yoghurt cream, herbs & spices
£8.50
Regular Tikka Masala King Prawn
Mild dish with yoghurt cream, herbs & spices
£11.50
Regular Tikka Jalfrezi - King Prawn
Spicy dish with fresh chillies & spring onion
Fairly hot
£11.50
Small Tikka Jalfrezi Vegetable (V)
Spicy dish with fresh chillies & spring onion
Fairly hot
£4.90
Small Tikka Jalfrezi Chicken
Spicy dish with fresh chillies & spring onion
Fairly hot
£5.50
Small Tikka Jalfrezi Lamb
Spicy dish with fresh chillies & spring onion
Fairly hot
£6.00
Small Tikka Jalfrezi King Prawn
Spicy dish with fresh chillies & spring onion
Fairly hot
£7.50
Regular Tikka Jalfrezi Vegetable (V)
Spicy dish with fresh chillies & spring onion
Fairly hot
£6.50
Regular Tikka Jalfrezi Chicken
Spicy dish with fresh chillies & spring onion
Fairly hot
£7.90
Regular Tikka Jalfrezi Lamb
Spicy dish with fresh chillies & spring onion
Fairly hot
£8.50
Small Tikka Begoni Vegetable (V)
Medium spiced dish cooked with fresh aubergines
£4.90
Small Tikka Begoni Chicken
Medium spiced dish cooked with fresh aubergines
£5.50
Small Tikka Begoni Lamb
Medium spiced dish cooked with fresh aubergines
£6.00
Small Tikka Begoni King Prawn
Medium spiced dish cooked with fresh aubergines
£7.50
Regular Tikka Begoni Vegetable (V)
Medium spiced dish cooked with fresh aubergines
£6.50
Regular Tikka Begoni Chicken
Medium spiced dish cooked with fresh aubergines
£7.90
Regular Tikka Begoni Lamb
Medium spiced dish cooked with fresh aubergines
£8.50
Regular Tikka Begoni King Prawn
Medium spiced dish cooked with fresh aubergines
£11.50
Small Tikka Shagor Vegetable (V)
Medium spiced dish with fresh herbs, cream & mushrooms
£4.90
Small Tikka Shagor Chicken
Medium spiced dish with fresh herbs, cream & mushrooms
£5.50
Small Tikka Shagor Lamb
Medium spiced dish with fresh herbs, cream & mushrooms
£6.00
Small Tikka Shagor King Prawn
Medium spiced dish with fresh herbs, cream & mushrooms
£7.50
Regular Tikka Shagor Vegetable (V)
Medium spiced dish with fresh herbs, cream & mushrooms
£6.50
Regular Tikka Shagor Chicken
Medium spiced dish with fresh herbs, cream & mushrooms
£7.90
Regular Tikka Shagor Lamb
Medium spiced dish with fresh herbs, cream & mushrooms
£8.50
Regular Tikka Shagor King Prawn
Medium spiced dish with fresh herbs, cream & mushrooms
£11.50
Small Tikka Pasanda Vegetable (V)
Mild to medium dish cooked in a creamy sauce
£4.90
Small Tikka Pasanda Chicken
Mild to medium dish cooked in a creamy sauce
£5.50
Small Tikka Pasanda Lamb
Mild to medium dish cooked in a creamy sauce
£6.00
Small Tikka Pasanda King Prawn
Mild to medium dish cooked in a creamy sauce
£7.50
Regular Tikka Pasanda Vegetable (V)
Mild to medium dish cooked in a creamy sauce
£6.50
Regular Tikka Pasanda Chicken
Mild to medium dish cooked in a creamy sauce
£7.90
Regular Tikka Pasanda Lamb
Mild to medium dish cooked in a creamy sauce
£8.50
Regular Tikka Pasanda King Prawn
Mild to medium dish cooked in a creamy sauce
£11.50
Small Tikka Korai Vegetable (V)
Medium dish with onion, peppers, ginger & herbs
£4.90
Small Tikka Korai Chicken
Medium dish with onion, peppers, ginger & herbs
£5.50
Small Tikka Korai Lamb
Medium dish with onion, peppers, ginger & herbs
£6.00
Small Tikka Korai King Prawn
Medium dish with onion, peppers, ginger & herbs
£7.50
Regular Tikka Korai Vegetable (V)
Medium dish with onion, peppers, ginger & herbs
£6.50
Regular Tikka Korai Chicken
Medium dish with onion, peppers, ginger & herbs
£7.90
Regular Tikka Korai Lamb
Medium dish with onion, peppers, ginger & herbs
£8.50
Regular Tikka Korai King Prawn
Medium dish with onion, peppers, ginger & herbs
£11.50
Small Tikka Bengal Vegetable (V)
Hot dish cooked with green pepper, onion & tomato
Fairly hot
£4.90
Small Tikka Bengal Chicken
Hot dish cooked with green pepper, onion & tomato
Fairly hot
£5.50
Small Tikka Bengal Lamb
Hot dish cooked with green pepper, onion & tomato
Fairly hot
£6.00
Small Tikka Bengal King Prawn
Hot dish cooked with green pepper, onion & tomato
Fairly hot
£7.50
Regular Tikka Bengal Vegetable (V)
Hot dish cooked with green pepper, onion & tomato
Fairly hot
£6.50
Regular Tikka Bengal Chicken
Hot dish cooked with green pepper, onion & tomato
Fairly hot
£7.90
Regular Tikka Bengal Lamb
Hot dish cooked with green pepper, onion & tomato
Fairly hot
£8.50
Regular Tikka Bengal King Prawn
Hot dish cooked with green pepper, onion & tomato
Fairly hot
£11.50
Small Tikka Garlic Chilli Vegetable (V)
Fairly hot dry dish cooked with garlic & fresh chillies
£4.90
Small Tikka Garlic Chilli Chicken
Fairly hot dry dish cooked with garlic & fresh chillies
£5.50
Small Tikka Garlic Chilli Lamb
Fairly hot dry dish cooked with garlic & fresh chillies
£6.00
Small Tikka Garlic Chilli King Prawn
Fairly hot dry dish cooked with garlic & fresh chillies
£7.50
Regular Tikka Garlic Chilli Vegetable (V)
Fairly hot dry dish cooked with garlic & fresh chillies
£6.50
Regular Tikka Garlic Chilli Chicken
Fairly hot dry dish cooked with garlic & fresh chillies
£7.90
Regular Tikka Garlic Chilli Lamb
Fairly hot dry dish cooked with garlic & fresh chillies
£8.50
Regular Tikka Garlic Chilli King Prawn
Fairly hot dry dish cooked with garlic & fresh chillies
£11.50
Small Tikka Rezala Vegetable (V)
Medium, rich sauce with a touch of cream, fresh chilli & coriander
£4.90
Small Tikka Rezala Chicken
Medium, rich sauce with a touch of cream, fresh chilli & coriander
£5.50
Small Tikka Rezala Lamb
Medium, rich sauce with a touch of cream, fresh chilli & coriander
£6.00
Small Tikka Rezala King Prawn
Medium, rich sauce with a touch of cream, fresh chilli & coriander
£7.50
Regular Tikka Rezala Vegetable (V)
Medium, rich sauce with a touch of cream, fresh chilli & coriander
£6.50
Regular Tikka Rezala Chicken
Medium, rich sauce with a touch of cream, fresh chilli & coriander
£7.90
Regular Tikka Rezala Lamb
Medium, rich sauce with a touch of cream, fresh chilli & coriander
£8.50
Regular Tikka Rezala King Prawn
Medium, rich sauce with a touch of cream, fresh chilli & coriander
£11.50
Small Tikka Chilli Masala Vegetable (V)
Hot dish cooked with fresh green chillies & peppers
£4.90
Small Tikka Chilli Masala Chicken
Hot dish cooked with fresh green chillies & peppers
£5.50
Small Tikka Chilli Masala Lamb
Hot dish cooked with fresh green chillies & peppers
£6.00
Small Tikka Chilli Masala King Prawn
Hot dish cooked with fresh green chillies & peppers
£7.50
Regular Tikka Chilli Masala Vegetable (V)
Hot dish cooked with fresh green chillies & peppers
£6.50
Regular Tikka Chilli Masala Chicken
Hot dish cooked with fresh green chillies & peppers
£7.90
Regular Tikka Chilli Masala Lamb
Hot dish cooked with fresh green chillies & peppers
£8.50
Regular Tikka Chilli Masala King Prawn
Hot dish cooked with fresh green chillies & peppers
£11.50
Tandoori King Prawn Balti
£12.50
Chicken & Mushroom Balti
With onions, tomato & selected spices to provied a medium strength thick sauce
£7.90
Chicken Saag Balti
Fresh spinach
£7.90
Balti Aloo Chana
Vegetarian
£7.50
House Special Mixed Balti
£10.90
Mixed Vegetable Balti
Vegetarian
£6.90
Chicken Tikka Biryani
Marinated overnight, grilled then stir-fried with basmati rice & onion, served with a vegetable curry
£9.90
Lamb Tikka Biryani
Marinated overnight, grilled then stir-fried with basmati rice & onion, served with a vegetable curry
£10.50
House Special Mixed Biryani
Chicken tikka, lamb tikka, king prawn, mincemeat, mushroom & prawns
£11.50
Aloo Paratha
Stuffed with potato
£3.90
Daal Samba
Vegetable & lentil
£3.50
Saag Aloo
Spinach & potato
£3.50
Bombay Aloo
Spicy hot potato
Fairly hot
£3.50
Mushroom Bhaji
Spicy mushroom
£3.50
Aloo Gobi
Cauliflower & potato
£3.50
Saag Paneer
Spinach cooked with cheese
£3.50
Muttar Paneer
Peas cooked with cheese
£3.50
Saag Daal
Spinach & lentil
£3.50
Aloo Chana
Potato & chickpeas
£3.50
Keema Fried Rice
Spicy mincemeat
£3.50
Create Your Own Set Meal x 1 People Regular
2 x Poppadoms & chutneys
Any starters
Any main dish
Any rice or naan
Any side dish
£15.50
Create Your Own Set Meal x 1 People Vegetables
2 x Poppadoms & chutneys
Any starters
Any main dish
Any rice or naan
Any side dish
£15.50
Create Your Own Set Meal x 1 People Regular
2 x Poppadoms & chutneys
Any starters
Any main dish
Any rice or naan
Any side dish
£15.50
Create Your Own Set Meal x 1 People Vegetables
2 x Poppadoms & chutneys
Any starters
Any main dish
Any rice or naan
Any side dish
£15.50
Create Your Own Set Meal x 1 People Regular
2 x Poppadoms & chutneys
Any starters
Any main dish
Any rice or naan
Any side dish
£15.50
Create Your Own Set Meal x 1 People Vegetables
2 x Poppadoms & chutneys
Any starters
Any main dish
Any rice or naan
Any side dish
£15.50
Create Your Own Set Meal x 2 People Regular
2 x Poppadoms & chutneys
Any 2 starters
Any 2 main dish
Any rice
Any naan
Any side dish
£27.90
Create Your Own Set Meal x 2 People Vegetables
2 x Poppadoms & chutneys
Any 2 starters
Any 2 main dish
Any rice
Any naan
Any side dish
£27.90
Create Your Own Set Meal x 2 People Regular
2 x Poppadoms & chutneys
Any 2 starters
Any 2 main dish
Any rice
Any naan
Any side dish
£27.90
Create Your Own Set Meal x 2 People Vegetables
2 x Poppadoms & chutneys
Any 2 starters
Any 2 main dish
Any rice
Any naan
Any side dish
£27.90
Create Your Own Set Meal x 2 People Regular
2 x Poppadoms & chutneys
Any 2 starters
Any 2 main dish
Any rice
Any naan
Any side dish
£27.90
Create Your Own Set Meal x 2 People Vegetables
2 x Poppadoms & chutneys
Any 2 starters
Any 2 main dish
Any rice
Any naan
Any side dish
£27.90
Create Your Own Set Meal x 2 People Regular
2 x Poppadoms & chutneys
Any 2 starters
Any 2 main dish
Any rice
Any naan
Any side dish
£27.90
Create Your Own Set Meal x 2 People Vegetables
2 x Poppadoms & chutneys
Any 2 starters
Any 2 main dish
Any rice
Any naan
Any side dish
£27.90
Create Your Own Set Meal x 4 People Regular
4 x Poppadoms & chutneys
Any 4 starters
Any 4 main dish
Any 2 rice
Any 2 naan
Any 2 side dish
£53.90
Create Your Own Set Meal x 4 People Vegetables
4 x Poppadoms & chutneys
Any 4 starters
Any 4 main dish
Any 2 rice
Any 2 naan
Any 2 side dish
£53.90
Create Your Own Set Meal x 4 People Regular
4 x Poppadoms & chutneys
Any 4 starters
Any 4 main dish
Any 2 rice
Any 2 naan
Any 2 side dish
£53.90
Create Your Own Set Meal x 4 People Vegetables
4 x Poppadoms & chutneys
Any 4 starters
Any 4 main dish
Any 2 rice
Any 2 naan
Any 2 side dish
£53.90
Create Your Own Set Meal x 4 People Regular
4 x Poppadoms & chutneys
Any 4 starters
Any 4 main dish
Any 2 rice
Any 2 naan
Any 2 side dish
£53.90
Create Your Own Set Meal x 4 People Vegetables
4 x Poppadoms & chutneys
Any 4 starters
Any 4 main dish
Any 2 rice
Any 2 naan
Any 2 side dish
£53.90
Meal Deal A For 2 People Sunday to Thursday
Starter : onion bhaji, chicken tikka
Main dish: chicken tikka masala, chicken bhuna
Side dish: pilau rice x 1, bombay potato x 1, mango chutney, poppadoms, x 2, onion salad, mint sauce
£15.90
Meal Deal A For 2 People Friday & Saturday
Starter : onion bhaji, chicken tikka
Main dish: chicken tikka masala, chicken bhuna
Side dish: pilau rice x 1, bombay potato x 1, mango chutney, poppadoms, x 2, onion salad, mint sauce
£20.00
Meal Deal B For 2 People Sunday to Thursday
Starters: onion bhaji, chicken tikka
Main dish: chicken korma, lamb balti
Side dish: naan x 1, pilau rice x 1, mango chutney, poppadoms x 2, onion salad, mint sauce
£15.90
Meal Deal B For 2 People Friday & Saturday
Starters: onion bhaji, chicken tikka
Main dish: chicken korma, lamb balti
Side dish: naan x 1, pilau rice x 1, mango chutney, poppadoms x 2, onion salad, mint sauce
£20.00
Chicken Nuggets & Chips
5 pieces of chicken
£4.50
Chicken Tikka & Chips
5 pieces of chicken
£5.50
Contact Us
Find Us
12 High East Street Dorchester, Dorset, DT11HS
We deliver to
DT1, DT2, DT3